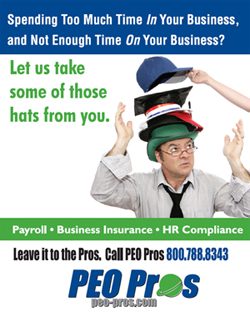 (This is part two of a three part series called "Why Use a PEO")
In the eight years we have been acting as PEO brokers we have found three primary reasons businesses decide to use a PEO.
Of course there are many other reasons, but these three always come back as primary motivation. They can all be summed up by something we call the SEP factor, going with a PEO makes your HR problems "Somebody Else's Problem." So here's why you want to make some of your problems, "Somebody Else's Problem."
Payroll and Taxes
Does this sound familiar? A small business owner pays his employees using whatever accounting program he has and the end of the quarter comes along. Time to send in a bunch of stuff to the government. In addition to all the forms, it includes:
Social Security Withholding (6.2%)
Social Security Company Match (6.2%)
Medicare Withholding (1.45%)
Medicare Company Match (1.45%)
State Unemployment Insurance (SUTA rate – starts at 2.7% in Florida)
Federal Unemployment Insurance (FUTA rate – 0.6% to 6% depending in state, done annually)
Additional assessments for SUTA and FUTA (usually annually)
Too often the business owner finds out that the money was spent on running the business. It has happened: people have had to borrow money to pay their payroll taxes. And what happens in an audit? All those records have to be produced and the business owner is on their own.
With a PEO, the responsibility shifts away from the business owner. The PEO bills the client for the cost of staff and the client is not responsible for the taxes. There isn't even a requirement to file. The client just has to pay the weekly bill and can go on working the business.
Workers' Compensation Insurance
Smaller businesses have a tough time getting workers' comp in these years of reduced comp rates. Even though it's politically attractive to lower comp rates during election years, it doesn't make small businesses attractive to insurance carriers, since the profit margins have been reduced to nearly nothing.
Fortunately, PEOs usually have a large client base to acquire a master workers' comp policy that allows some flexibility in taking smaller clients with lower premiums.
PEOs can also make accommodations for clients that have had some claim history.
HR Issues
This can be anything from unemployment claims to problems with liability insurance, employee enrollments, which posters to put up, employee retention or general compliance issues with all the changing federal, state and local requirements. Do you know how many forms it takes to add an employee? With a PEO you don't have to know! It's THEIR problem, not yours.
Click here to continue on to part 3 of the "Why use a PEO?" series, "PEOs and Exit Strategy".
Call us at 407-490-2468 or use the contact form below if you have questions.