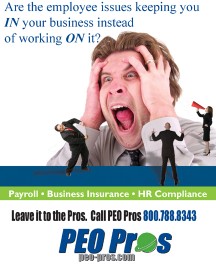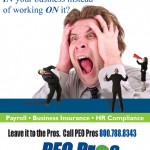 Why would a business owner use a PEO to provide solutions to employer headaches with traditional payroll and insurance methods?
"PEO" stands for Professional Employer Organization. In almost all states this is a licensed and regulated corporation which practices in the field of employee leasing or co-employment.
In an employee leasing scenario, the PEO becomes the Employer of Record of all the client's employees for purposes of payroll, taxes, insurance and HR compliance. Other services are available if necessary. This is also true in a co-employment situation, but some o the responsibilities are shared. The major share of the liability of having employees is shifted to the PEO, thus enabling the client to concentrate on building their business, instead of being bogged down in the day to day "busy work."
Our typical client is an employer who is:
Worried that their current payroll situation may be making mistakes
Sick of the hassles of workers' comp insurance
Nervous about possible unemployment claims
Does not want to be burdened by payroll issues, such as payroll taxes
Concerned about keeping their best employees
Worried about maintaining compliance with HR standards and regulations
Alarmed at the prospect of complying with new health care laws
Potential clients are employers who suspect they are overpaying for insurance and HR services and still not assured of proper or complete coverage.
We may b able to assist those employers with employee retention and peace of mind by helping them to supply proper benefits.
Call us at 800-788-8343 or use the form below if you have questions.
There are several other articles under this heading, hold the mouse over the blue bar and select from the drop down menu.