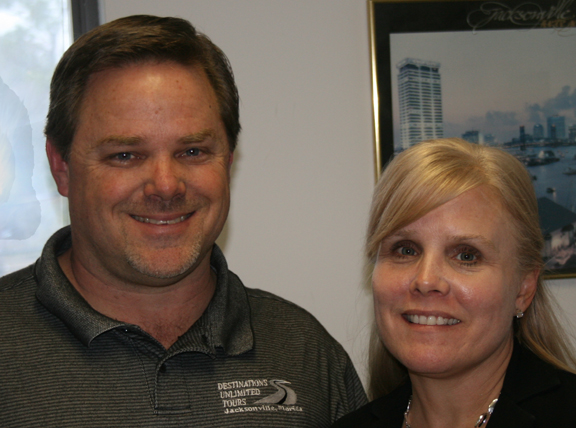 Client Profile: Destinations Unlimited Tours
"The first time I even thought about W-2s this year was when our personal copies arrived in the mail" Destinations Unlimited Tours owner Mike Mackey tells us. "It's a tremendous relief not to worry about that and other HR issues like payroll taxes and workers' comp insurance. I'm so glad PEO Pros found us a good match for our PEO services."
Mike and Starr Mackey, pictured here, are the owners of this combination travel agency and charter bus company.
"We like to work with tour groups. Schools, churches and other common interest groups can have us take them to the cruise ship, the big game, or even a safe tour of New York City. We take them to the best restaurants, best hotels, and all of the details are taken care of."
"The PEO relationship has enabled us to provide proper insurance coverage to work with public schools, department of defense and other heavily regulated agencies. Workers' Comp was always a black cloud that hung over our head before. Now it is somebody else's problem."
"We even have a 'Magical Mystery Tour' where the guests are only told how much money to bring, and when they will be back. I'm not going to spoil it by telling you where we are going this time, but we have gone to places like Mobile, AL and toured the Navy Museum, stopped in Panama City Beach for some sun and white sand, and even hit some breweries and wineries along the way. It's one of our most popular tour packages."
"Folks enjoy taking us to the cruise ship, because the vacation begins when they step on the bus, and doesn't end until they get back home. No driving to Miami or Fort Lauderdale. No parking worries. No traffic. Leave the worries to us!"
Destinations Unlimited Tours has been a client of ours since 2008. They have recommended our service to some of their friends in the industry, the best testimonial a client can give!
"We recently had a worker who was out on sick leave" Starr Mackey tells us. "It was so nice to simply make a call to the PEO and find out what we needed to do. They are always only a call or email away."
"On a personal level, I like it because we have direct deposit and my money goes right to my bank account" says Debby Boote in Business Development. "And on a business level, I like it because if there is ever a problem or a question I can go to the PEO and they are always there to help out right away."
Here is a video featuring Mike Mackey, Starr Mackey and Debby Boote from Destinations Unlimited Tours: