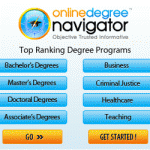 Some of our partner PEOs are offering a new service to their client employees.
This new service, called the Online Degree Navigator, allows people to search a variety of online degree offerings from one website.
We expect this program to become very popular with our partner PEOs, especially with the focus on advancing education. With one click to a website, PEO employees can now select from a wide variety of online degree course offerings.
If you would like to offer this to your employees, please use the contact form below: