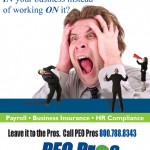 Employment Practices Liability Insurance (EPLI) is a growing necessity in today's lawsuit fraught business environment.
It seems employees feel they have the right to sue employers for just about anything.
EPLI is a type of liability insurance that offers protection against such lawsuits, or even the threat of lawsuits. Coverage is enabled with an occurrence of an event which may lead to a lawsuit.
PEO Pros has some options to consider for this problem, including a standalone policy, or a cooperative arrangement with a PEO.
If you feel your business could be harmed by a disgruntled employee (or ex-employee), or like many of us, afraid that all it would take is one lawsuit to lose your business, perhaps you should consider EPLI.
If you would like to learn more, please call us at 800.788.8343 or use the contact form below.